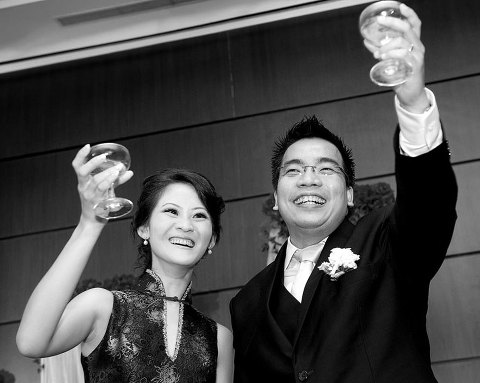 It has been close to half a year since the last time I blog on wedding photography.  It is not that I have not been shooting wedding, just that there are so many photos that I like to share and it is a painful process to see beautiful photos been dropped.  For this wedding of Tai Hiam and Yanling, I have chosen 100 photos after going through many rounds of selection.  Please stay patience while the slideshow load (get a glass of coffee if you need) and enjoy the pictures.
Tai Hiem is one of the lucky groom who didn't get "tortured" by the Jiemei(s), picking up of the bride is an easy task for him.  I like their wedding car, tiny and sweet although it broke down (lucky we already at the groom house for tea ceremony)!  They had their solemnization at the pool side of Grand Hyatt Hotel before the wedding dinner.  Great effort was put in by the couple for the set up and the climax was the release of the balloon with the help of the sisters.
Dinner was held in the ballroom and what make it difference is that it starts at 8pm sharp without the couple doing the usual march-in.  The newly-wed only came in after the 2nd dish was served for the cake cutting and champagne pouring, followed by the speech.  They also preferred not to do the table to table photos, instead just moving around and mingling with the guests and giving out a stalk of rose to all the female guest which is a really a nice little gesture!